In order to search every available piece of information about someone's VIN or license plate number, you can use trusted services like the following options, they offer anonymous search for total security.
Tools to search car details by VIN or license plate
1. Bumper
Bumper is one of the best VIN search tools we recommend and found useful, it has a large database of car identification numbers, license plate records, and more data than other systems.
Here is a simple screenshot example of what it's included in the car history report based on what the member uses as a search option, you can get the vehicle specifications by VIN, but also, there are other hidden details that are not visible to search engines.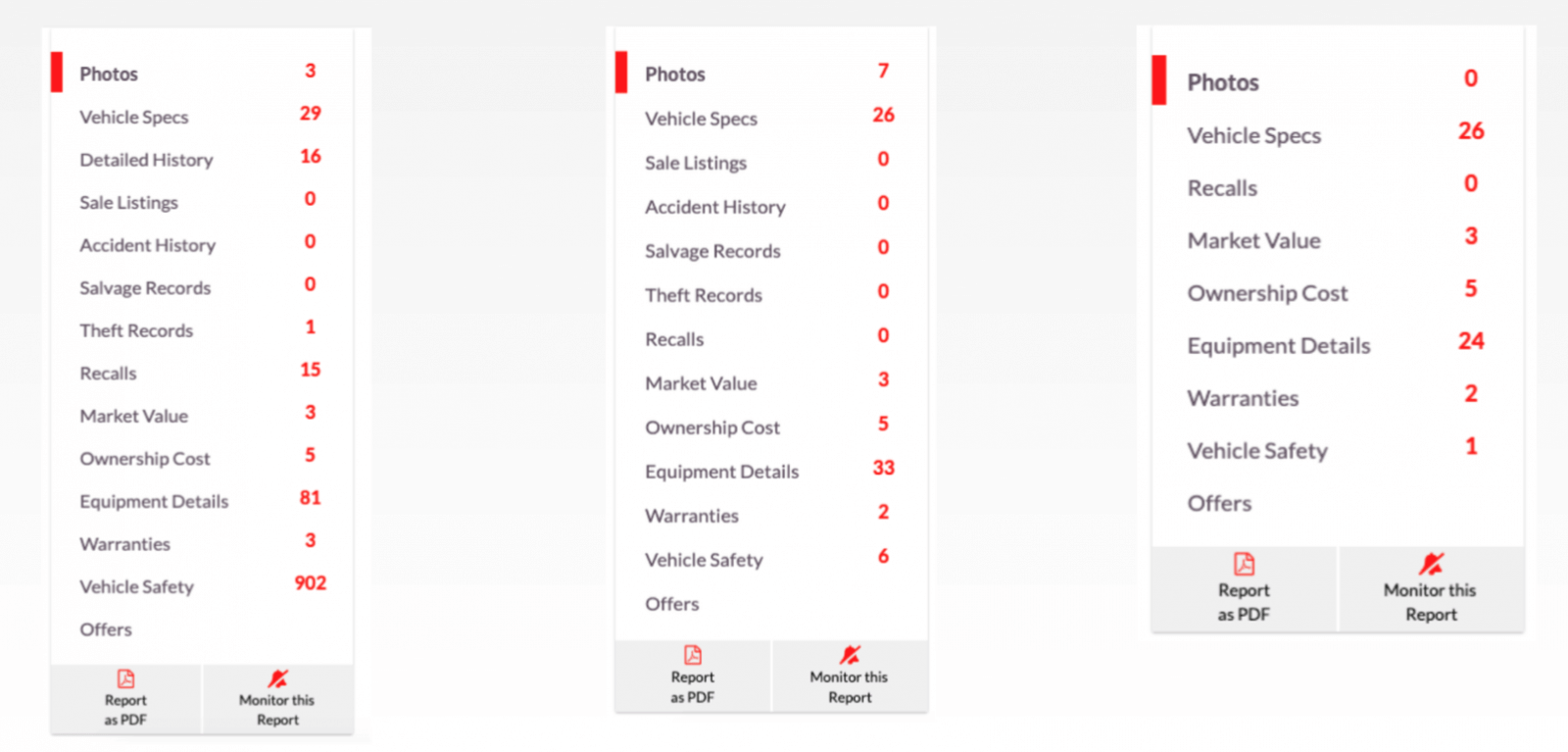 The website offers advanced vehicle research by VIN number, and it combines all the data from different sources which makes the reports clear to read and navigate through. In addition, there is an easy-to-use car license plate search that brings up-to-date information about the car you want to learn more about. Thus, if you have a car and you want to search how much it costs, then, this is a good place to search with and read all the average estimations.
On the other side, when someone wants to buy a used car, but he suspects that the seller is hiding something, then, Bumper may be able to tell if that vehicle has been in an accident or a crash and so, it can tell you the car specifications, color code, mileage and more when available with a simple vehicle identification number search.
Sometimes, you may need to search information about someone's car but without knowing the VIN or license plate, in this case, there is a useful search option by car model, make, and year, that way, users can get the car history report that includes a long list of features such as the following:
The actual market value of the car
Accidents records
Vehicle safety and options
Ownership cost
Recalls and warranties
Sales listings
Theft records
More than 150 vehicle specifications and more
In addition to all that, users can monitor cars and download their PDF reports with a few clicks, and that may bring more details than what you expect thanks to the bulk data that algorithms get from many sources.
Because this is a premium quality VIN search service, the data is some of the best on the market for this kind of research. The monthly subscription costs $13.44 however users can save 35% OFF by choosing the 3 months membership that comes with VIN search reports and support at the cost of $26.22 which is cheaper than other car background and history search services that offer fewer details and bad user dashboards. This one is modern, fast, secure, and provides more car data than other options in the US.
Keep in mind that when you do a vehicle serial number search, you only get a record about cars that have been manufactured after the year 1981, older cars have different chassis number standards and it's not included in the database of the VIN search tool.
Nowadays, lots of car owners won't be able to locate their chassis numbers easily, so, to search their VIN numbers online, they search for the vehicle's plate number instead, then, they can get the VIN with other data, that's how many of these premium search engines make the difference and help.
2. BeenVerified VIN search
BeenVerified is another great online tool to search for car details by its VIN number, but also, there are other search options using names, emails, phone numbers, and even the home address. It's an all-in-one people and car search platform that you can use to help search someone's details online.
When you want to search for a car by VIN number, this sophisticated service provider can help a lot, especially if there is no information found about the vehicle in Google or other search engines.
Can you search for a car VIN through search engines?
When someone wants to search a car model by its VIN, Google may not already know about the vehicle, and in fact, search engines including Google and Bing collect the data and index it by crawling public pages on billions of websites, which may not be valid for car specifications, theft records or ownership costs.
That specific type of information is only visible to assurance agencies, car manufacturers, and other private sources or databases, and all that needs advanced techniques and ways to get the data, then organize all the numbers the way that humans can understand them. So, that's why thousands of people choose these options to search their car VIN and learn more about their specifications, paint codes, equipment, options, and more.
To search the mileage by the VIN, Google will never search a record as the data is not visible to its web crawlers, that piece of information is collected at different levels, and so, the mileage will have some sort of updates to reflect the latest numbers found. That's how car sellers search vehicle mileage before buying them.